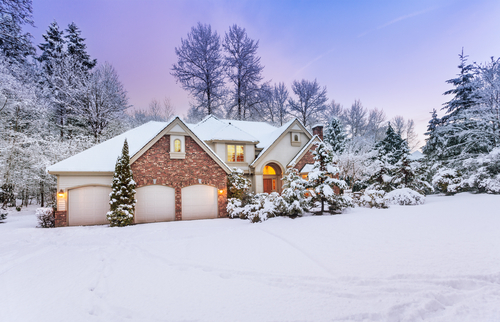 Preventative Work in Chilly Months Makes for Year-Round Roof Health
The roof maintenance work done in VA communities during the winter helps prevent roof repair Richmond homeowners dread. A roof repair Prince George job can be costly and time consuming. Prevention is the key to ward off the kinds of roof repair Colonial Height residents dread. And whether it's emergency work or ongoing maintenance, Timothy's Home Improvement is the place for roof repair Petersburg homeowners trust.
There are a few key maintenance tasks you can do in the winter to stave off springtime roof repair Colonial Height residents dread.
Clear Snow. When heavy snow hits VA communities, it can be the precursor of problematic roof repair Richmond homeowners end up dealing with later. Snow that remains on your roof for long periods can mean trouble, putting pressure on the roof itself and the trusses underneath that provide support. Snow and ice can also lead to …
Ice Dams. When precipitation piles up, freezes, and thaws, water often has nowhere to go, except inside your home. It can be disconcerting to see it "rain" down your walls as ice dams block the normal escape paths for water. Ice dams occur when gutters, fascia, and downspouts become clogged, too. If leaves and other autumn debris were not cleared, then the ice dam issue can become even worse, requiring a roof repair Prince George homeowners don't look forward to.
Attic Insulation. Insulation does more than keeping you and your family warm in the chilly months of winter. It can also keep the internal portions of your roof warmer, reducing the ice and snow buildup that can cause other damages. Winter is a good time to take care of roof maintenance from the inside and the outside.
Shingle Repairs. Winter storms, especially with increased wind and gusts, can cause damage to shingles that should be repaired as quickly as possible. Shingle damage is one of the most common causes of roof leaks. Shingles that are nailed or use other types of metal fasteners are a roof repair Petersburg residents can have done at any time of year. However, the cold conditions mean that some roof materials can become more fragile and susceptible to cracks or breaks at this time of year. That's why a skilled roofing contractor is the right choice.
Chimney and Flashing Repairs. Another common source for leaking roofs is where the roof meets siding, skylights, or chimneys. If there are cracks, holes, or other signs of deterioration or damage to these key points, it's important to have the repair work done as quickly as possible. In some cases, winds can pull away chimney flashing, leading to major water damage to your attic and home interior.
Roof Replacement. If you need to have roof replaced, winter can be a tricky time to do so. However, scheduling your roof replacement in the winter months means you'll be first in line when weather warms up and you need a complete roof replacement.
Timothy's Home Improvement offers a complete line of roof repair Richmond residents need to keep their roof in great condition four seasons a year.